Dewaxing Autoclave Systems
WSF Dewaxing Autoclaves, in support of the investment casting industry, assure uniform ceramic shell heating for complete process mold dewaxing. Manufactured to meet your specifications, our Autoclave Systems may be skid mounted, thus becoming completely integrated equipment packages.
Features of a WSF Dewaxing Autoclave System:
Complete packaged systems factory-piped and wired for on-site installation convenience
Operating cost savings by efficient Autoclave and steam generating system sizing
O-ring gasket seal is replaceable, inexpensive and long lasting due to no rotating parts
Pressures & temperatures can be attained and maintained in seconds
Programmable Pressure and Venting ramps available (pressure versus time)
Steam generating system powered by fuel, (natural gas, propane, fuel oil) or electricity
Designed, manufactured, tested at our plant in Tonawanda, NY, USA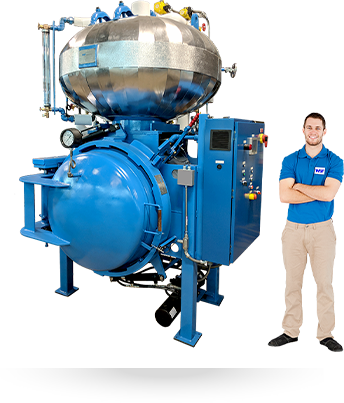 Individual component features include:
WSF Dewaxing systems feature our RAPIDOOR® quick-access closure for fast and easy ceramic shell loading and unloading. Our Autoclave shell is externally heated, helping to maintain temperature in between cycles and reduce condensate accumulation.
Wet steam accumulator design allows Autoclave pressure setpoints to be attained and maintained while minimizing steam generating system horsepower requirements. Typical standard features include Level maintaining and indication. Optional features include Low Level and at pressure indication to the control system.
Dewaxing Process Components
Steam Delivery System: control valves achieve critical pressure setpoints in required time.
Venting System: open/close, staged and controlled venting available.
Venting System: open/close, staged and controlled venting available.
WSF SmartClave® technology integrated with system controls and an HMI / Operator Interface assists Operators in quickly locking the Autoclave and executing Dewax cycles.
Typical SmartClave® Dewax cycle parameters include steam delivery setpoints and options, variable cycle times, critical cycle and system alarm setpoints.
Available options include controlled Venting, several Wax Drain assist options, multiple cycle recipe storage and selection with variable pressures, ramp rates, and cycle times.
Documentation options include: Paperless Recording with user messages, cycle replay and zoom features, locally stored to removable/exportable media, remote data acquisition/storage. Ethernet and custom interfaces for customer's SCADA, OEE, and IoT requirements can also be provided.
Download Product Information:     

 WSF Dewaxing Autoclave Systems English